Features
※High pressure difference and stability work, the pressure drop ratio of up to 120:1
※Small size, can be installed in any location, easy to maintain
※Spring direct acting type, safe and reliable, durable
※Can be used as monitoring valve or working valve two kinds of functions
※The pressure setting is simple, the adjustment precision is high, the flow scope is wide
Technical Data
Function And Strength
Acc. to EN 334
Nominal Pressure
CLass150 ~ CLass900 ( 5MPa - 15MPa)
Nominal Size
DN25 ~ DN50 (NPS 1〞 ~ NPS 2〞)
Connections
Flange to ANSI B16.5 RF、RTJ
Temperature Class
-29℃ ~ 60℃ ; -46℃ ~ 60℃
Max. Operating Pressure PSmax
15MPa(Could be less - acc. to the flange pressure class)
Outlet Pressure Ranges Wd
0.07MPa~4MPa
Accuracy class AC
≤ ±1 ~15%(AC1~AC15)Depends on the operating pressure range
Closing Pressure Category SG
≤ 5 ~ 20%(SG5~SG20)Depends on the operating pressure range
Flow range
≤ 4300m3/h
levels of protection
IP65
Material
Main valve body: Cast steel A 216 WCB、A 352 LCC
Spring shell: Cast steel
Internal parts: Stainless steel, steel, copper
Spring : Spring steel (X750,A276,316)
Sealing: Reinforced PTFE, nitrile rubber, synthetic rubber
Working principle
When downstream demand decreases, the pressure under the diaphragm increases. This pressure overcomes the regulator setting (which is set by a spring). Through the action of the pusher post assembly, lever, and valve stem the valve disk moves closer to the orifice and reduces gas flow. If demand downstream increases, pressure under the diaphragm decreases. Spring force pushes the pusher post assembly downward and the valve disk moves away from the orifice allowing more flow through the body to the downstream system.
Valve Design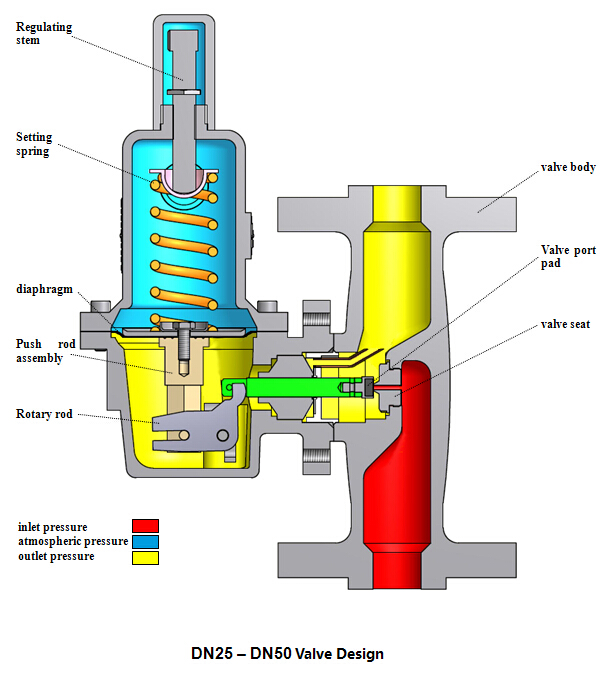 Dimensions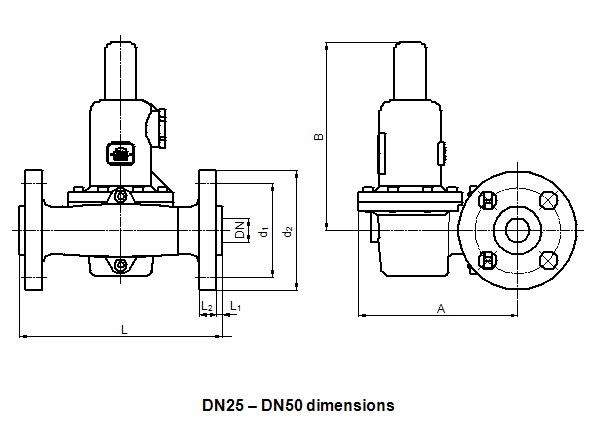 Dimensions

Note: when the S100H/S100HM type pressure relief valve, the table in the B size need to increase by 10mm
Pressure flow control table of pressure regulating valve
S100/S100M(NPS1 DN25)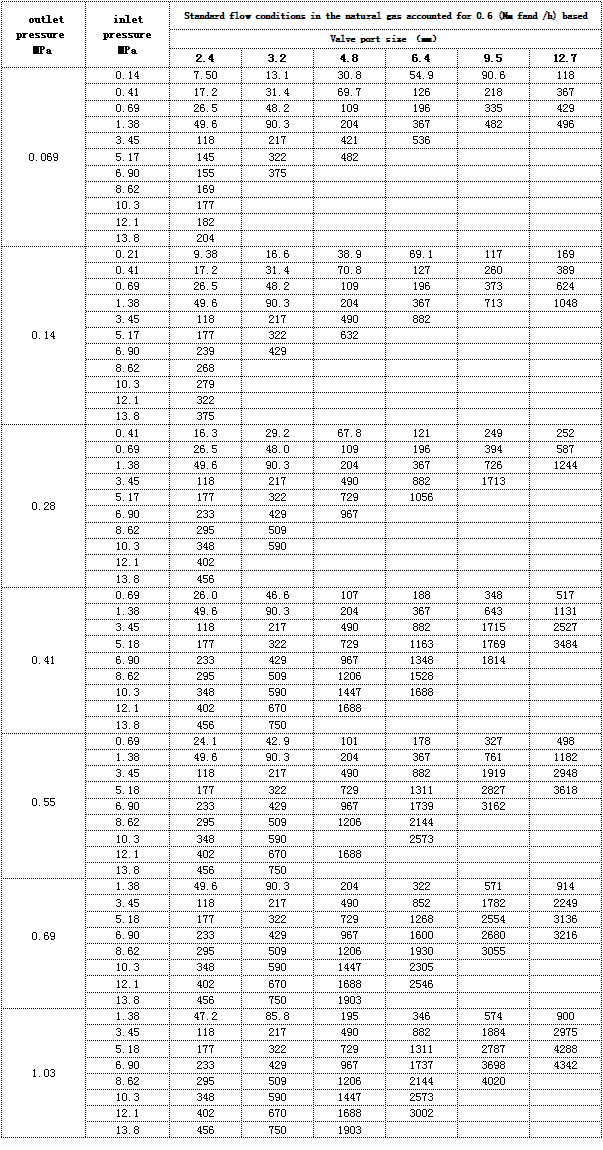 S100/S100M(NPS2 DN50)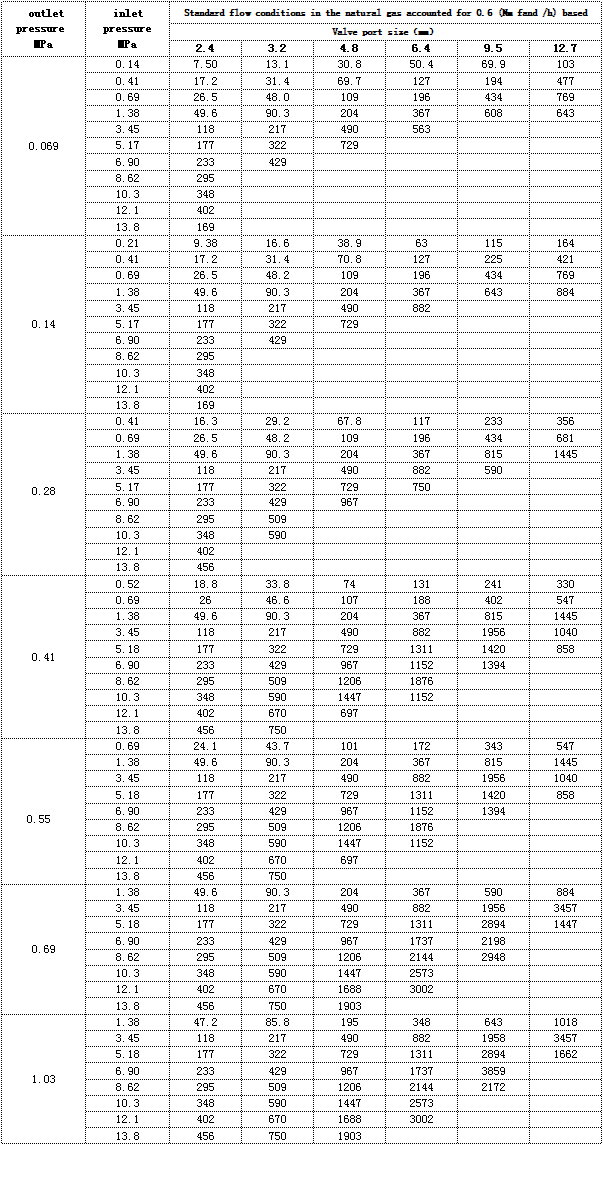 S100H/S100HM(NPS1 DN25)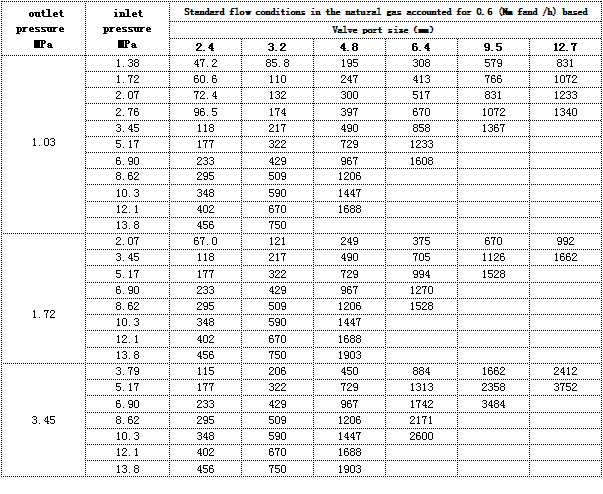 S100H/S100HM(NPS2 DN50)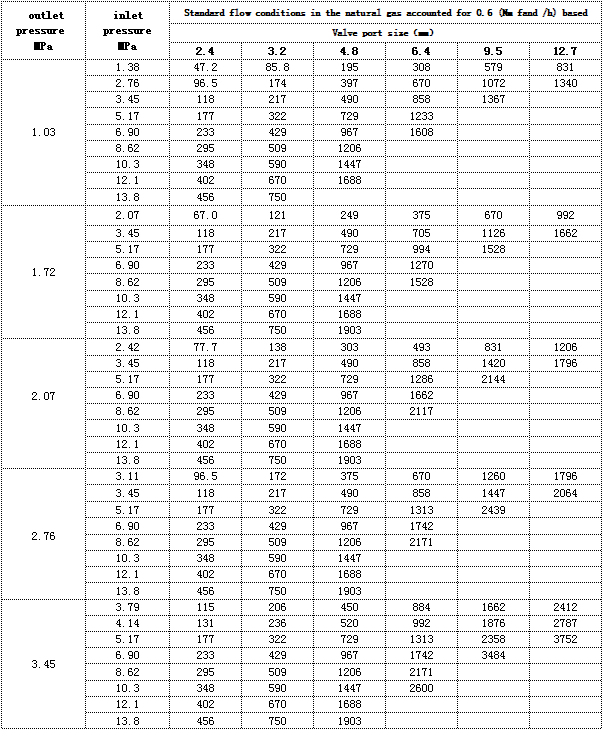 Order type selection
Pressure regulating valve selection

Product model description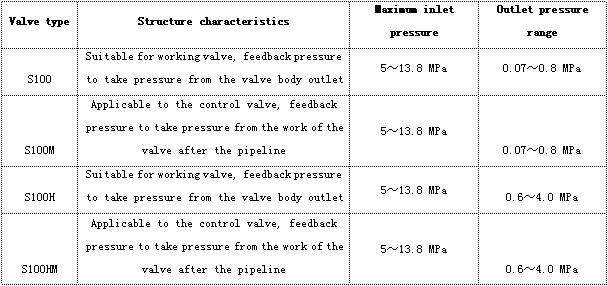 Other special configuration instructions
☆S100M and S100HM of external pressure connection size 1/4 "FNPT thread, recommend the use of 10mm instrument fittings and stainless steel tube.